ECONOMY
Fox News Hosts Shocked To Learn Their Own Polls Show Voters Want To Increase Taxes On The Rich



Fox News hosts on Tuesday expressed their bafflement over the results of their own network's poll showing how the public is "increasingly on board with raising taxes on the rich."
A Politico/Morning Consult poll on Monday found that 76 percent of voters believe the wealthiest Americans should have to pay more in taxes.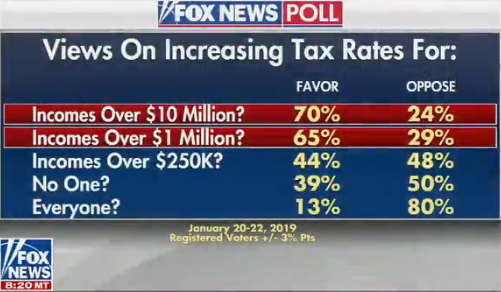 Then, a poll conducted by Fox News last month found a staggering 70 percent of respondents favor raising taxes on citizens with incomes over $10 million and 65 percent wanted higher taxes on those making more than $1 million.
The polls were conducted days after Rep. Alexandria Ocasio-Cortez called for a marginal tax on the ultra-wealthy and after Sen. Elizabeth Warren revealed her wealth tax plan.
On Tuesday, the pair of shocked anchors referred to this trend as a movement "against capitalism."
Charles Payne, the host of Fox Business's "Making Money," claimed that "the idea of fairness has been promoted in our schools for a long time, and we're starting to see kids who grew up with this notion of fairness above all. Now, they're becoming voting age, and they're bringing this ideology with them."
Fox, apoplectic over its own polling showing wide public support for @AOC and @ewarren's wealth tax proposals, literally blames the fact that schools teach kids to be fair:

"The idea of fairness has been promoted in our schools for a long time." pic.twitter.com/GowAZWYWpZ

— Steve Morris (@stevemorris__) February 5, 2019
In response to the clip, Rep. Alexandria Ocasio-Cortez tweeted: "Just wait until they find out about the Golden Rule."
Just wait until they find out about the Golden Rule https://t.co/i0qWby8aY6

— Alexandria Ocasio-Cortez (@AOC) February 5, 2019
Splinter notes: "It's probably worth pointing out now that Payne, Smith, and Hemmler are all rumored to boast net worths in the millions and so have a vested interest in not being soaked, hence their incredulous reactions."