EQUALITY
North Carolina Wedding Venue Turns Away Same-Sex Couple Citing Their "Christian Beliefs"
As if planning a wedding during a pandemic wasn't hard enough, a same-sex couple ready to say I do say they were turned away by a popular wedding venue in Fuquay-Varina due to what the homophobic company calls their "strong Christian beliefs."
"Disheartening is the word I would use," McCae Henderson, an attorney in Raleigh and groom-to-be told ABC11. "We had not had anything like this throughout the process or really in our lives."
Henderson and his fiancé, Ike Edwards, got engaged on Valentine's Day and recently began to look for wedding venues across the Triangle.
A friend suggested the Highgrove Estate in Fuquay-Varina, an elegant white home surrounded by lush forestry and away from any city lights.
"We thought it was very picturesque," said Edwards, "Nice outdoor area. We thought it would be great for a Spring wedding."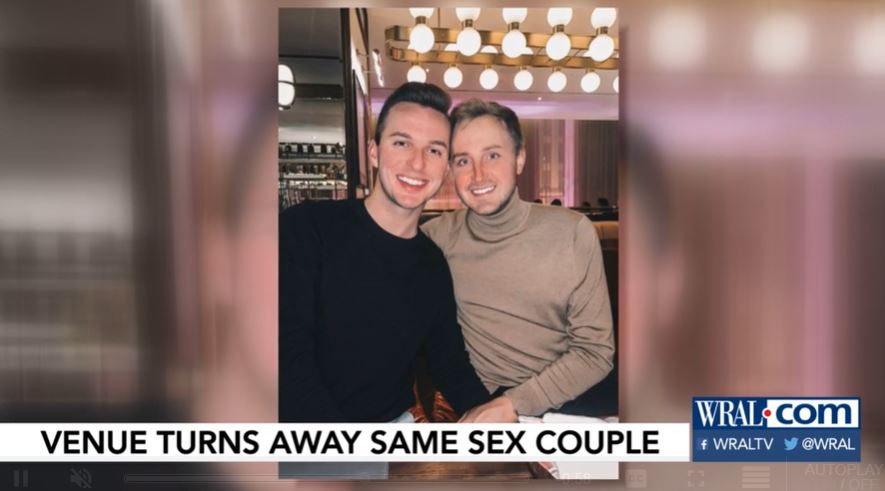 The couple filled out an intake form on the estate's website, which only provided spaces for the name of the "bride" and "groom."
"In the notes section I just said we were a groom and groom," Edwards said. "It's not like we can ignore that and then show up."
Two days later they got this response from a Highgrove Estate employee: "Thank you so much for your inquiry! To answer your question, our owner has unfortunately chosen not to participate in same-sex weddings at this time. However, she wants to ensure that you still have the best wedding day experience possible, and has given me a list of several other wonderful venues in the area that may interest you."
The couple was shocked.
"We haven't really got that response from any venue or vendor that we reached out to," said Henderson. "To see that in 2021 was very surprising to us because we haven't faced anything like that."
Highgrove Estate's instagram page posted a message saying, in part: "Highgrove Estate desires that all people's weddings to be the most joyful in their lives. Highgrove also respects people's differences regarding marriage. For this reason, we will always be kind and caring when these differences arise. Although Highgrove knows it cannot deliver what is being requested as the company holds strong to its Christian beliefs."
The owners and managers of Highgrove Estate declined to speak on camera but were very candid with ABC11 in conversations off-camera.
In an exclusive statement sent to ABC11, the owners wrote "Highgrove has always welcomed vendors, guests and employees of all orientations and we do not discriminate against a people or group. We believe in the sanctity of marriage as God says in the Bible that marriage is between a man and a woman and we choose to honor Him above what the world decides what marriage should be."
Asked about the couple's frustration, the owners replied, "We have been respectful and kind when letting them know we are not the best fit for them. When magazines and others chose not to do business with us because of this position, we respected that decision. That is their right. We do not judge them or retaliate because they chose to not respect our religious beliefs. The argument can just as easily be the same for us as we're being made to feel like the other. We are not the ones attacking, slandering and threatening others for their beliefs."
The couple, however, said they have many friends who grew up Christian, and this sentiment from Highgrove Estate isn't shared by those friends.
"To disguise their discrimination under the guise of Christianity was an insult to us," he said.