Campaign Finance
Leaked Documents Show GOP Is Selling Access To Top House Leadership Staff For Just $5,000
Congressional Republicans are reportedly selling monthly briefings with Republican House leadership staff, as well as receptions with legislators' own chiefs of staff for $5,000 a year, reports the The Intercept.
Leaked documents obtained by The Intercept and the Center for Media and Democracy show that both the National Republican Senatorial Committee and the National Republican Congressional Committee are selling their donors regular access to meet with top congressional staff members including chiefs of staff, leadership staffers, and committee staffers, in exchange for making regular annual donations.
While selling donors access to senators and representatives and their campaign staff is nothing new, the open effort to sell access to their legislative staff — the taxpayer-funded government employees who work behind the scenes to write legislation, handle investigations, and organize committee hearings — appears to be in violation of ethics rules that prohibit campaigns from using House and Senate resources in any way.
Congressional ethics rules flatly forbid Capitol Hill employees from engaging in fundraising activities as part of their official duties. Any explicit fundraising work must be done strictly as a volunteer, and there must be a clear firewall separating government work from campaign work.
"You can't use resources that are paid for by the taxpayer to service campaign donors. That's blatantly illegal," said Caroline Fredrickson, the former chief of staff to Sen. Maria Cantwell, D-Wash.
In one of the documents obtained by The Intercept from NRSC, the Senate GOP campaign arm, the group lists the benefits of "D.C. Personal Giving Memberships," which are up for grabs for as little as $1,500 a year. The document states that for the $1,500 contribution, you will receive an invite "to attend events with Republican Chiefs of Staff, Leadership Staff, and Committee Staff."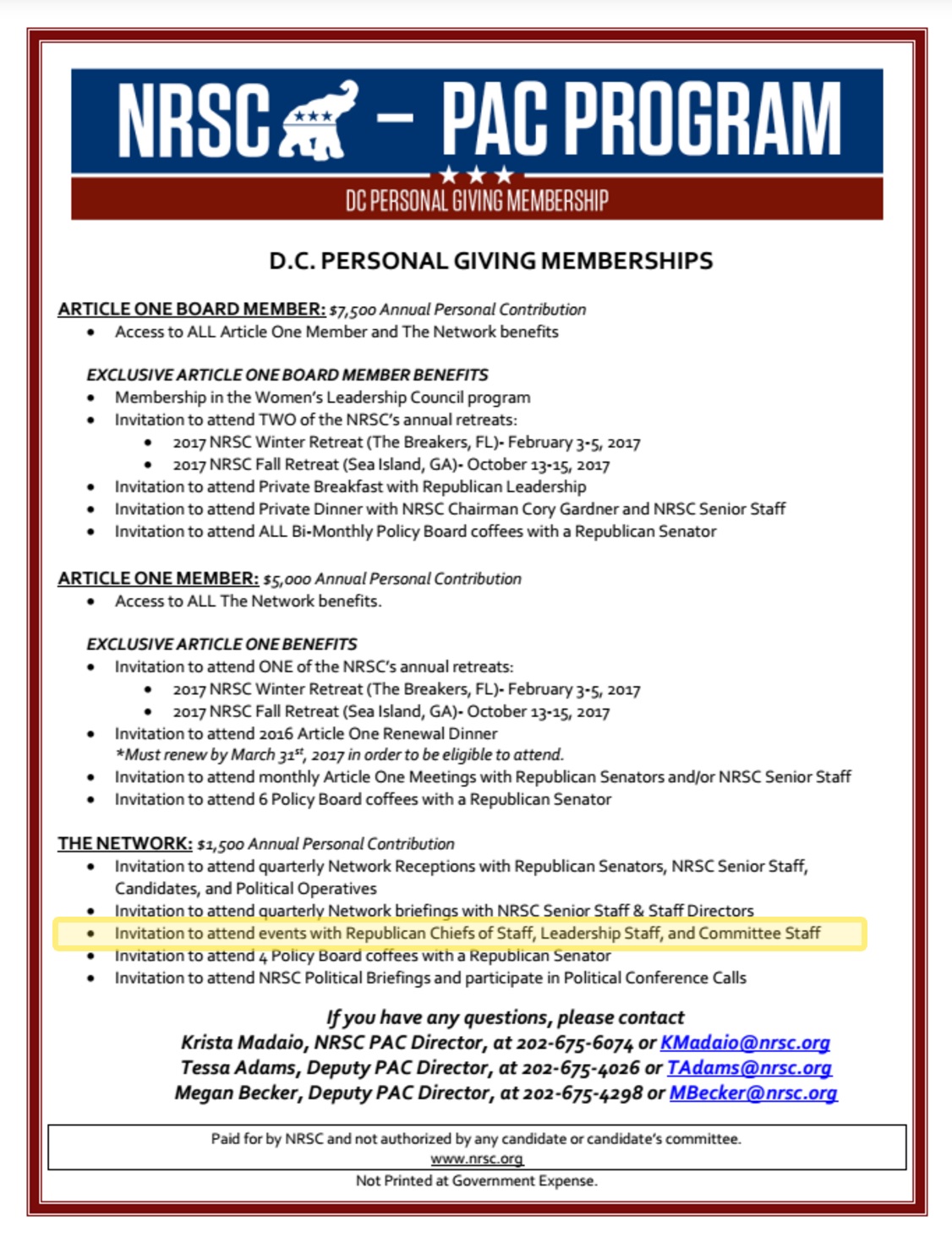 Michael Beckel, the research manager at campaign finance reform organization IssueOne, tells The Intercept that the new GOP program amounts to "blatant buying and selling of access," while noting that "Congressional staffers, paid by the taxpayers, don't have carte blanche ability to participate in political fundraising."
"This is the first time I have heard of party fundraisers based on pay-for-access to congressional staff," said Public Citizen ethics expert Craig Holman.
To read The Intercept's full report and more leaked documents, click here.